FREE ASSESSMENT
No cost. No appointment necessary. We're available to help 24/7.
Our comprehensive evaluation gathers an overall picture of your experience and is critical to crafting an individualized treatment plan.
Studies show that at least one in five children and adolescents have a mental health disorder.
Today, family matters more than ever.
As adults it's hard to cope with so many stressful events occurring in and around our lives. Can you imagine what it must be like for our youth? The stress of being an adolescent alone can be overwhelming let alone add the external issues in the world today.
Many youth cannot go it alone. Parents, and anyone in contact with a struggling youth need to take action by supporting the adolescent or getting them the help they need.
Hendricks Behavioral Hospital specializes in helping adolescents and families through the toughest of times. HBH specializes in stabilizing the at risk teenager when serious depression, suicidal behavior, or drugs and alcohol take hold.
It is not easy for a mother or father to admit and take action that their child is not on solid ground emotionally. The clinical team at Hendricks know what to do to help you and more importantly how to help the adolescent themselves.
Signs of difficulties may be any of the following:
Suicidal thoughts or actions; thoughts of death
Self-harm
Depression
Withdrawn behavior
Mood swings
Physical acting out towards self, others, or objects
Alcohol and/or drug abuse
Inability to cope with problems and daily activities
Change in sleeping and/or eating habits
Excessive complaints of physical ailments
Defiance of authority, truancy, theft, and/or vandalism
School problems: behavioral and/or academically
Family Involvement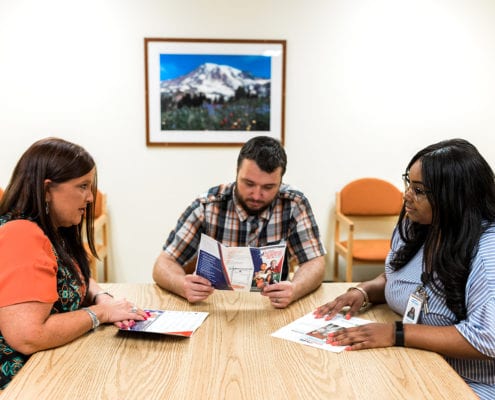 At Hendricks Behavioral Hospital, we recognize that family or Adolescents can have mental health disorders that interfere with the way they think, feel, and act. When untreated, mental health disorders can lead to school challenges, family conflicts, drug abuse, violence, and even suicide. Our adolescent specialized treatment team works with the patient, the family, and others in the life circle of the adolescent.
Programs Features:
A safe environment for your teen in an adolescent – only treatment unit.
Psychiatric evaluation by a Board Certified Child and Adolescent Psychiatrist or Advanced Nurse Practitioner.
Medication assessment, initiation & stabilization.
Education on how to manage feelings, thoughts and emotions.
Opportunity for teens to understand symptoms with peers their own age.
Group therapy classes centered on proven, evidence-based programs, specifically for teens.
Recreation therapy to help teens learn coping strategies.
Family meetings.
Crisis safety planning.
Discharge planning to help connect patients and families to outpatient resources.
Let us help you help adolescents through difficult times.
JOINT COMMISSION ACCREDITED
The Joint Commission is an independent, not-for-profit organization which certifies health care organizations and programs across the U.S. Their seal is a symbol of quality in an organization's commitment to meeting certain standards.
Hendricks Behavioral Hospital has been awarded the Joint Commission's Gold Seal of approval, which speaks to our dedication to ongoing quality care, patient safety, and best practices.