FREE ASSESSMENT
No cost. No appointment necessary. We're available to help 24/7.
Our comprehensive evaluation gathers an overall picture of your experience and is critical to crafting an individualized treatment plan.
Admissions Process
When entering the Hendricks Behavioral Hospital lobby you will be greeted and escorted to an assessment room. We will ask you to complete a few pieces of paperwork similar to a doctor's office visit. An admission counselor will meet with you and explain the assessment and admission process, and a financial counselor will explain your benefits and how they fit with our programs.
At this time, we will complete a full psychosocial assessment, review the programs available and make a recommendation for appropriate treatment either at Hendricks Behavioral Hospital or our intensive outpatient program. If you need treatment we do not provide, we will provide community resources for you to follow up with at your convenience.
Once you sign the admission paperwork the counselor will go over which items are allowed on the unit and escort you to your treatment unit for orientation with one of our nurses. Patients will be seen by their psychiatrist and an internal medicine physician within 24 hours of admission.
Please bring:
Form of state or federally issued ID

Insurance card

Emergency contact information

List of current prescription medications

List of important phone numbers

Medical Power of Attorney or Guardianship Paperwork, if needed

Legal documents proving legal guardianship for a minor
JOINT COMMISSION ACCREDITED
The Joint Commission is an independent, not-for-profit organization which certifies health care organizations and programs across the U.S. Their seal is a symbol of quality in an organization's commitment to meeting certain standards.
Hendricks Behavioral Hospital has been awarded the Joint Commission's Gold Seal of approval, which speaks to our dedication to ongoing quality care, patient safety, and best practices.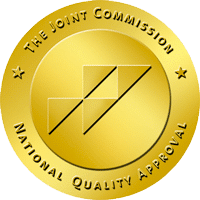 What to Bring
Your comfort and safety are the top priority when packing for your hospital stay. Keep in mind that the list below was created with guidelines from mental health and hospital regulations. We offer laundry facilities so no need to overpack. We also have a storage area for your suitcase and valuables.
Limit your clothing to what you will need in the course of a one-week stay. Casual clothing is recommended.
Three to four changes of casual clothing without drawstrings. For example, casual pants or jeans, casual shirts, or comfortable, casual dresses. Please note that offensive or inappropriate logos will not be allowed. Laundry access is available with laundry detergent.
A supply of socks and underwear that will last between three and four days. Please do not bring tube socks or leggings.
Bring one pair of comfortable shoes without shoelaces.
A sweater or light jacket, without drawstrings.
Toiletries: Comb, brush, deodorant, toothbrush, toothpaste, and rechargeable electric razor. We provide toiletries, if needed. (No glass or aluminum containers, no mirrors, no alcohol content in any products, and no hair dryers or flat / curling irons.)
Medications: Please bring all your medications and provide a list of your current prescription and over-the-counter medications, including dosages and frequency. CBH will provide medications on our formulary only. This may not include medications prescribed for certain medical conditions.
Phone Numbers: Bring a list of important phone numbers, as you will not have immediate access to a cell phone while you are in treatment.
Please leave these items at home:

Please do not bring jewelry, money or other valuables. Wedding rings are appropriate.
Any clothing with drawstrings is prohibited: sweatpants, running shorts, hoodies, pajamas, shoes with laces, paracord jewelry or watches, etc. Belts are also not allowed on pants.
Electronic devices such as smartphones, tablets, laptop computers, radios, cell phones, alarm clocks or other items with a cord.
Your own pillow, sheets, blanket or stuffed animal. We will supply all the linens and pillows you need during your stay.
Food and drinks from outside of the hospital. You will be provided with regular meals and snacks. Any special dietary needs can be discussed with our dietician.

All of a patient's belongings will be reviewed by a qualified staff member and recorded on a Patient Property Inventory. This list of belongings will be reviewed with the patient and the patient will need to sign this form. Hendricks Behavioral Hospital is not responsible for lost, stolen or damaged articles listed under the "Items retained by the patient" section of the form.
Patient ID
Every patient is protected under the HIPAA (Health Insurance Portability and Accountability Act) law that requires us to keep our patient's identity confidential.
The patient will be given a unique ID number when they are admitted. They will have the opportunity to give their patient ID number to whomever they choose. In the case you have not received this number please leave a message for the patient and if they are admitted to the hospital, our staff will give the patient a message that you are attempting to reach them. Receptionists will not be able to confirm if a patient is admitted to the hospital without the patient ID, but if you leave a message and the person you are trying to reach is at the hospital the message will be delivered. If the patient does not want to provide their ID, this is their right and the phone call may not be returned.
We strive to include friends, family and referral sources in the care of our patients, but we do respect the confidentiality of each patient and adhere to HIPAA laws.
If you are a referring professional attempting to contact your patient, please contact us and ask for one of our community liaisons to provide assistance.
Family & Friends
Often times we all know someone we love and care about that struggles with mental health or chemical dependency problems.
It's difficult for the individual and as difficult for family and friends to know what to do. HBH will help and support you in helping them through a difficult time. We have clinical options and many community resources.
As you can read below, we help patients once they come into our programs. Call us. We will walk you through steps that will not only support you but get the individual the care they need.
How to Pay
Hendricks Behavioral Hospital accepts most commercial insurance, managed Medicaid and Medicare plans, Medicaid for patients under 21, Medicare and TRICARE®.
To speak with a financial counselor, please call (844) 991-9900 and ask for the business office.
PATIENT STORIES
Hendricks Behavioral takes great pride in knowing we have provided effective treatment for our patients and their time at HBH was meaningful.
The staff is genuinely nice. They try and accommodate all patients and their individual needs. I would highly recommend this treatment for anyone struggling.
Their groups are informational. They accomplished my needs. The staff are laid back and funny. They talk to you like a human being. It has great food and the unit is spacious.
The nurse practitioner is excellent. She made time for me when I needed her. She was patient and understanding. She took my feelings and wishes into consideration.